Veronique Gabai-Pinsky,
Global Brand President, Aramis and Designer Fragrances, BeautyBank and IdeaBank at The Estée Lauder Companies Inc.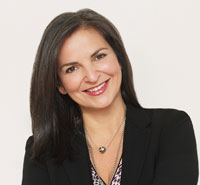 Using craft, culture and creativity to transform beauty from the core, Veronique Gabai-Pinsky was named Global Brand President of The Estée Lauder Companies' Aramis and Designer Fragrances (ADF) division in November 2006. She is responsible for the global business for the Aramis, Lab Series Skincare for Men, Coach, Tommy Hilfiger Toiletries, Donna Karan Cosmetics, Michael Kors Beauty, Kiton, and has recently introduced to the portfolio, Ermenegildo Zegna, Marni and Tory Burch. She reports to Fabrizio Freda, President of The Estée Lauder Companies and is a member of the Companies' executive leadership team.
In July 2009, she added BeautyBank and IdeaBank, the entrepreneurial think tank divisions of The Estée Lauder Companies, to her responsibilities. Its mission is to identify consumer-centric, opportunities around the world across product development, channel diversification and regional expansion and bring these concepts and brands to market through sustainable and profitable business models. The latest Brand launched through IdeaBank is Osiao, a Skin Care brand dedicated to Asian skin.
In these roles, Ms. Gabai-Pinsky provides a strategic approach to portfolio management, prioritizing long-term planning and brand development as well as bridging business acumen with creative thinking, maximizing resources and enhancing relationships with partners and licensors.
Previously, Ms. Gabai-Pinsky was Executive Vice President and General Manager for Fine Fragrance, North America, for Symrise and its predecessor, Dragoco. In that capacity, Ms. Gabai-Pinsky opened the New York Office of Dragoco to develop its US business as well as to position the firm in the fine fragrance category as a creative and alternative industry resource. She was also instrumental in managing the US merger of the fine fragrance teams with Haarman and Reimer, giving birth to Symrise.
From 1997 to 1998, Ms. Gabai-Pinsky served as Vice President of Marketing and Communication for Guerlain, a division of LVMH, where she successfully managed the brand's relationship with Mr. Jean Paul Guerlain. She was responsible for marketing and communications and led the successful re-launch of Shalimar, the introduction of Aqua Allegoria, and contributed to the re-focus of the color line around its pillars, Terracotta and Meteorites and the brand's skincare around Issima.
Prior to this, Ms. Gabai-Pinsky spent time as the Worldwide Director of Strategic Planning for SELECT Advertising, handling clients in the beauty and fashion sectors such as Coty, Jill Sander, Joop, Marithe et Francois Girbaud, Vanity Fair and Gruppo GFT. She also held a number of positions at L'Oréal, including Vice President of Marketing for Giorgio Armani, where she was instrumental in the overall development of its fragrance business by introducing the highly successful Acqua di Gio for men and developing the Emporio Armani franchise.
Ms. Gabai-Pinsky graduated from ESSEC Business School in Paris, France. In addition to speaking French and English, she is also well versed in Spanish and Italian.
She is a member of The Committee of 200, Fashion Group International and Cosmetic Executive Women and is on the Board of Directors for Free Arts NYC. She also volunteers as a "Principal For a Day" for the PENCIL organization, helping public schools in New York City better manage and contribute to their students' education.
In fall 2008, Ms Gabai-Pinsky was recognized as one of the top 10 "Women in Luxury" by Time Style & Design magazine. She was recognized as Achiever of the Year 2009 by CEW. In December 2010, The Cristal Festival honored her with the Cristal of Honor award at the 10th annual gala in Crans Montana, Switzerland for her noteworthy career achievements and contributions in advertising to the prestige fragrance industry. Additionally, in the Spring of 2013 Pratt Institute awarded Veronique with the "Art of Packaging Award" which recognized excellence in cosmetics and packaging design.
Ms. Gabai-Pinsky lives in Manhattan with her husband and son.