Sasha Salama
Host Committee Member & Media Trainer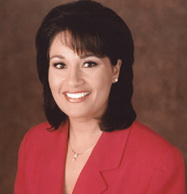 Sasha Salama is a veteran broadcast journalist with more than 20 years of experience in the U.S. and overseas. Ms. Salama has interviewed hundreds of CEOs and newsmakers as an anchor and correspondent for CNN, CNBC in the U.S. and Asia, Reuters, Nightly Business Report and Asia Business News. She also has coached CEOs and senior executives to prepare them for interviews with the press as well as presentations.
As Senior Producer at Reuters Television, Ms. Salama helped launch an innovative, online, multimedia financial news product aimed at professional and institutional investors. She anchored and reported financial news for CNN, CNN International and CNN Headline News for eleven years. As Managing Editor of CNBC Asia in Hong Kong, Ms. Salama hired and managed a newsroom of 75 people for the world's first, global business news television network. Prior to CNBC Asia, she helped launch Asia's first business news network, Asia Business News, from Singapore. Ms. Salama was also a key member of the launch team of CNBC in the U.S., creating the network's first global business news program, first mutual fund program and first election coverage from a financial perspective. Prior to CNBC, Ms. Salama wrote for Charles Osgood when he anchored the CBS Morning News. She started her career in radio, anchoring and reporting in Providence, Rhode Island where she received two awards from the Associated Press for her documentary work and election night coverage.
Ms. Salama holds a Bachelor of Arts degree in History from Brown University and a Master of Science degree in Journalism from Columbia University. She lives in New York City with her husband and two children.