George John
Chief Executive Officer of Rocket Fuel

"The Promise of Artificial Intelligence"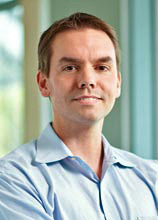 George John has built a successful career by consistently generating insights and profits for marketers by analyzing huge amounts of historical data to predict response rates and target messages—helping Kraft sell more Miracle Whip, Amazon.com sell more books, and Wells Fargo sell more financial services.
Prior to co-founding Rocket Fuel, George led teams building high-tech systems to optimize marketing at Yahoo!, salesforce.com, Epiphany, and IBM, in roles spanning engineering, marketing, sales, and executive management.
As a senior director for behavioral targeting and personalization at Yahoo!, his teams delivered systems to optimize marketing spend and personalize content and ads. This helped advertisers see up to a 400% lift in click-through and conversion rates, driving one major site to number one in comScore rankings, and delivering hundreds of millions of dollars in revenue. At salesforce.com, he led product initiatives in dashboards and analytics that monetized significant deals for the company and sparked community initiatives including what manifested into the successforce user forums.
As employee number 13 at Epiphany, George created a suite of uniquely usable and scalable data-mining tools. He helped Epiphany grow from $0 to $127 million in revenue and an IPO within three years. Prior to Epiphany, he was the first senior data-mining analyst in the Global Business Intelligence Solutions division of IBM, where he built a team and worked as a liaison between the research, consulting, and software groups.
George has served on the advisory boards of CafePress, Enviz, Quindi, and Intelligent Results; advised the National Science Foundation; and volunteered with the American Institute for Health Education. He earned his bachelor's, master's, and doctorate degrees in the department of computer science at Stanford University.
During his graduate studies, George co-authored a seminal paper on relevance that became one of the top-ten most-cited papers in AI; he won a National Science Foundation fellowship; and he worked for NASA during the summers, where he earned his "rocket scientist" credentials.