Itzhak Fisher, Executive Vice President, Global Business Development at Nielsen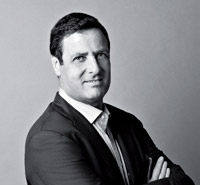 Itzhak Fisher serves as Executive Vice President, Global Business Development for Nielsen. Appointed to this role in January 2011, Itzhak holds responsibility for strategic business development initiatives and mergers and acquisitions to benefit clients and their priorities. In addition, Itzhak the Founder and Chairman of Pereg Ventures, the Nielsen backed early stage venture fund.
Previously, Itzhak led Global Product Leadership, guiding the development and delivery of all Nielsen product solutions to the marketplace. Before that, he was Executive Chairman of Nielsen's Online Division, encompassing Nielsen//NetRatings and Nielsen BuzzMetrics solutions.
A prominent entrepreneur in high-technology businesses for three decades, Itzhak has led ventures through mergers, acquisitions and initial public offerings. Previously, he was co-founder and chairman of Trendum, a leader in Internet search and linguistic analysis technologies, which was subsequently acquired by The Nielsen Company. In 2005, he led Trendum's acquisition of BuzzMetrics, a market leader in online word-of-mouth research, and negotiated its 2006 acquisition of Intelliseek. Itzhak served as chairman of the combined entity, Nielsen BuzzMetrics.
Previously, Itzhak founded and served as President and CEO of RSL Communications (NASDAQ: RSLC), a telecommunications firm which operated in
22 countries on four continents with over $1.5 billion in revenues.
Itzhak holds a Bachelor's of Science degree in computer science from the New York Institute of Technology, and pursued advanced studies in computer science at New York University.