Sheena Wright, President and CEO, United Way of New York City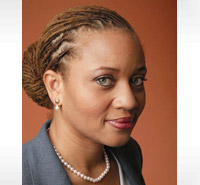 Sheena Wright was named President and CEO of United Way of New York City in October 2012, the first woman to lead the organization in its 75 year history. On her first day, Hurricane Sandy made landfall. She jumped right in to mobilize volunteers and address the immediate needs of victims affected by the storm. A $10.7 million Hurricane Sandy Relief Fund (HSRF) was also established to raise money to address the long term needs of affected areas.
United Way of New York City ("UWNYC") is a non-profit, community service organization with a long and rich history of helping people build more self-sufficient lives. As one of the best-known nonprofits and part of the worldwide United Way brand, UWNYC helps to mobilize communities to break down barriers and build opportunities that improve the lives of low-income New Yorkers for the benefit of all. UWNYC envisions caring communities where all individuals and families have access to quality education and the opportunity to lead healthy and financially secure lives. UWNYC partners with and provides resources to over 500 nonprofit organizations to address the needs of hundreds of thousands of New Yorkers every year. Under Sheena's leadership, there will be a continued focus to implement strategies in the areas of education, income, health and strengthening non-profits.
From 2002-2012, Sheena served as President and CEO of the Abyssinian Development Corporation (ADC), where she was responsible for leading and managing one of the nation's premiere community and economic development organizations. During her tenure, ADC built 785 units of residential housing in 78 buildings and nearly a half million square feet of community, commercial and retail space, including the first new high school building in Harlem in 50 years, creating over 1,000 jobs in the process.
Under Sheena's tenure, ADC created the "Abyssinian Schools" division, which comprehensively manages five educational institutions that annually serve 2,100 school children and their families. She developed an award-winning workforce development program which has helped 200 young high school drop-outs obtain their GED or high school diploma and secure gainful employment. She also developed a neighborhood-based Naturally Occurring Retirement Community that annually serves more than 1,000 seniors and increased the service delivery of ADC's homeless shelter.
Sheena previously served as Chief Operating Officer of ADC. Prior to ADC, she served as the General Counsel and EVP of Business Development for Crave Technologies, a Senior Associate at the law firm of Reboul, MacMurray, Hewitt, Maynard and Kristol, and an Associate at the law firm of Wachtell, Lipton, Rosen and Katz.
Sheena serves on the board of trustees of the Vera Institute for Justice and the New York City Regional Economic Development Council. She is a graduate of Columbia University, which she entered at age 16, received her law degree from Columbia Law School, and is a member of the New York State Bar. Sheena was born and raised in the South Bronx and now lives in Harlem, New York with her 3 sons.