Irwin Simon, The Hain Celestial Group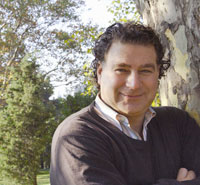 Irwin D. Simon has been the President, Chief Executive Officer and a Director of The Hain Celestial Group, Inc. since he founded the Company in 1993. In its last fiscal year Hain Celestial generated $1.7 billion in sales and today has nearly 4,000 employees worldwide with 24 manufacturing facilities. Previously, Mr. Simon was employed in various marketing capacities with Slim-Fast Foods Company and The Haagen-Dazs Company, a division of Grand Metropolitan PLC. Mr. Simon serves as a Director on the Boards of Jarden Corporation and MDC Partners Inc.
The Hain Celestial Group (NASDAQ: HAIN), headquartered in Lake Success, NY, is a leading organic and natural products company in North America and Europe. Hain Celestial participates in many natural categories with well-known brands that include Celestial Seasonings®, Earth's Best®, Ella's Kitchen®, Terra®, Garden of Eatin'®, Sensible Portions®, Health Valley®, Arrowhead Mills®, MaraNatha®, SunSpire®, DeBoles®, Gluten Free Café™, Hain Pure Foods®, Spectrum®, Spectrum Essentials®, Walnut Acres Organic®, Imagine®, Almond Dream®, Rice Dream®, Soy Dream®, WestSoy®, The Greek Gods®, BluePrint®, Yves Veggie Cuisine®, Europe's Best®, Cully & Sully®, New Covent Garden Soup Co.®, Johnson's Juice Co.®, Farmhouse Fare®, Hartley's®, Sun-Pat®, Gale's®, Robertson's®, Frank Cooper's®, Linda McCartney®, Lima®, Danival®, GG UniqueFiber®, JASON®, Avalon Organics®, Alba Botanica® and Queen Helene®.