Edward Bilous
Composer, artistic director and educator, is the Director of the Center for Innovation in the Arts at the Juilliard School.

"Nurturing Creative Intelligence"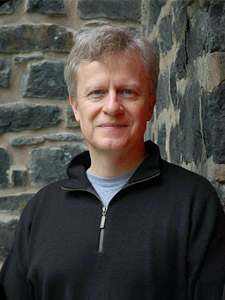 Dr. Bilous began his career in education in 1978 as a member of the original group of teaching-artists at the newly created Lincoln Center Institute. Together with colleagues in drama and dance he helped to define the basic cannon of aesthetic education practices that continue to inspire students and teachers around the world.
Dr. Bilous has been on the faculty of the Juilliard School since 1984 and has developed many of the institutions most innovative programs including the Arts and Education Program, the Center for Innovation in the Arts and Beyond the Machine – A Festival of Multimedia and Interdisciplinary Art. Bilous has served on the National Endowment for the Arts panel for Learning In the Arts, and was the Senior Education Advisor in the creation of The Academy – A Program of the Juilliard School, Carnegie Hall and the Weil Institute. In 2012 he was awarded the William Schuman Scholars Award by the Juilliard School in recognition for his outstanding contributions to arts education.
In 2015, with support from the Muriel McBrien Kauffman Foundation and the Kauffman Center for the Performing Arts, Dr. Bilous will launch the Miracle of Music, a series of multimedia concert events, innovative curriculum and interactive media designed to use the power of digital technology to advance music education and nurture creative intelligence in young children. The Miracle of Music will be available to schools, orchestras and performing arts centers everywhere.
With works for film, stage and dance Dr. Bilous is an active composer and producer. His musical compositions include Lucid Dreams written for the American Composers Orchestra, Night of the Dark Moon for Pilobolus Dance Theater and Mission Eternity for Beyond the Machine Festival.
He has collaborated on many projects that foster understanding and social awareness including the documentary films Scottsboro (2001 Academy Award nominee) and Portraits of Grief – A Tribute to the Victims of the September 11th Tragedy and Forgiveness (PBS). He is currently composing the score to The Emperor of All Maladies a Ken Burns presentation for PBS.
His multimedia works include BASETRACK a concert-theater event that tells the stories of a battalion of Marines in Afghanistan and their emotional journey home. BASETRACK will begin a national tour on September 11th and incorporates an engagement component designed to stimulate dialogue and understanding between civilian and military communities across the country.
Recently, Bilous joined the creative team of SACRED as composer and music director. SACRED is a global-documentary event produced by WNET-New York Public Television.
Dr. Bilous received his M.M. and D.M.A. in composition from the Juilliard School and his B.M. from the Manhattan School of Music. He lives with his wife Michelle DiBucci and daughter Isabella in New York City.