Christopher Bishop,
Sr. Communications Specialist, IBM Global Financing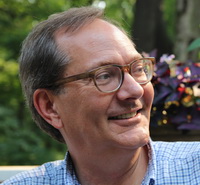 Christopher Bishop has had many different careers during the 35 years since he graduated from Bennington College with a degree in German literature. After spending three years touring and recording with McKendree Spring, he became a sought-after session musician in New York City. Artists with whom he worked include Robert Palmer, Chuck Berry, Bo Diddley, Darius Brubeck and many others. Looking to get off the road, Chris took a job in 1990 at a jingle house, writing and producing music for radio and TV commercials.
In 1995, he became captivated by the Internet and shifted into a role as a Web producer, first freelance and then on staff at several seminal agencies in New York. IBM offered him a job in 1998 as an Account Manager in their fledgling Corporate Internet Programs division.
Chris has now been at IBM for almost fifteen years, working in a variety of roles – as a business strategy consultant, a communications specialist and a designer of events in virtual worlds.
In October 2011, he conducted a month-long Practitioner Residency at the Rockefeller Foundation's Bellagio Center, on Lake Como. He worked on codifying his transitions through multiple careers into a concept he calls "Metacognition and Reinvention: the 21st Century Career Paradigm".
Chris is also an evangelist for the power of social media and other disruptive technologies to drive collaboration and innovation in the global, borderless, community.