Randy Joy Epstein
Founder & Co-organizer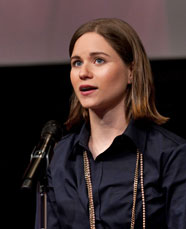 Randy Joy Epstein is the founder and Producer of TEDxTimesSquare. She is responsible for speaker selection, curation and overseeing the event.
Ms Epstein, the CEO of Randy Joy & Co, has over 15 years' experience advising public and private companies. Ms Epstein brings broad expertise to her clients to assist them in strategic planning to grow their companies with a specialty in high growth and turnaround implementations.
Ms Epstein has founded and grown multiple companies. Her career began at PricewaterhouseCoopers where she worked in New York with hundreds of companies ranging from high growth start-ups going public to Fortune 50 companies.
She is a sought after speaker and CEO speech curator aligning the entire team towards growth. Speaking engagements to entrepreneurial and business audiences have included: NY Entrepreneur Week, the National Minority Business Council, and Vistage. Articles and interviews have appeared in WorkstyleMagazine, Forbes.com, Entrepreneur Magazine, NY Enterprise Report, and multiple radio shows. She is the recipient of The Muriel F. Siebert Banking and Investment Leadership Award.
Ms Epstein is a CPA in New York, a graduate of the Center for Entrepreneur Leadership and the University of Pennsylvania's Wharton School of Business.